Clip Studio Paint has more than 4 000 000 users around the world, according to the developer, as a technical graphics app for entertainment, animation and manga, and comic arts. It presently is available in two models, one Pro and one EX. Because of its amazing capabilities, capacities, and inexpensive pricing, it soon became one of the most popular manga and comics programs in the industry.
The iconic Adobe's Photoshop is one of its biggest rivals in the market, but many artists and illustrators start viewing Clip Studio Paint as an outstanding photoshop alternative because it provides additional flexibility in a variety of fields, many of which we illustrate in the analysis. In this article, I have included everything that you need to know about clip studio paint. So read this detailed review of Clip Art Studio till the end.
How Did Clip Art Studio Start?
Clip Studio Paint began to be "Comic Studio" and soon became a huge and loyal corporation in Japan, where the Japanese tech company, Chelsy (of the fame of RetasPRO), created it from the very beginning.
Although the software in Japan was not especially popular with many consumers, until a few years ago it was the distribution and re-branding of the software like Manga Studio by Smith Micro (who also created the popular 2d Animation Software Moho). The collaboration made Manga Studio a genuinely global brand and perhaps the most successful manga and comic book apps in the industry today.
However, this app is not only a one-trick puny but also has some unique features that differentiate it from many other art programs on the market considering the fact it is very popular with artists created manga, animation, and artwork.
You can Download Clip Studio Paint From this link.
The main difference between Paint Pro and Ex
Let me clarify that Clip Studio Paint is two programs. In fact,  I should say that there are two different versions of the program you can purchase – Clip Studio Paint PRO and Clip Studio Paint EX.
Except for the price difference, there are some big differences that should be remembered when you choose which one you are interested in and your budget.
Below is a table compiled side-by-side that provides a clearer explanation of each program's various characteristics.
Flexibility in Drawing In Clip Studio Paint
This is the true power of Clip Studio Paint and what positions it above any other programs of digital painting.
It also seems like an artist-driven software program, and when it comes to making your artwork, it allows you more choices and versatility.
You can always use your cursor (while I won't suggest this!) or draw freely with a pen tablet to help you create your manga or comic book characters. Select from a range of pencils, pencils, and other materials.
The styles and brushes have such an obvious feel, and when used with graphic tablet monitors such as Cintiq, or a normal drawing tablet, the reaction and pressure sensitivity is superior to Photoshop in many people.
Options For Multiple Brushes In Clip Studio Paint
You can design and add your own brushes or choose a number of preset brush choices to design almost any effect you want. Most of the illustration systems have a limited range of brush options that can be challenging for illustrators who want to create a certain result, so it's a very nice thing at Clip Studio.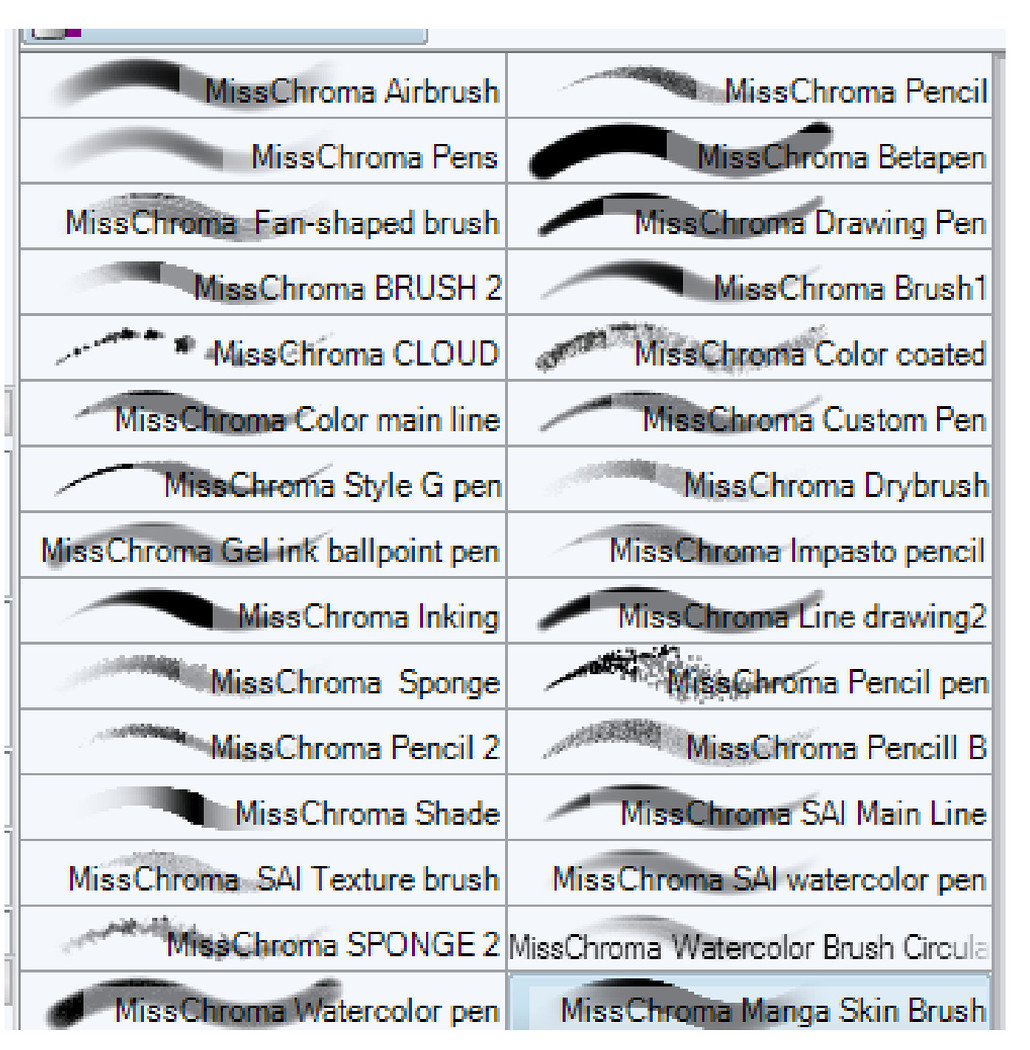 More than 10,000 different materials, brushes, and components can be found on the website of Clip Studio Assets. There is also an immense online archive.
Vector Toolkit In Clip Studio Paint
Shift your project forward even quicker with the strong vector software that comes with Clip Studio. It's also easier to locate mistakes and areas requirings for any touch-ups to finish the artwork in less time, and to fill a color zone with less "screwed-up" mistakes.
Big Tools For Coloring In Clip Studio Paint
The program contains a complete range of coloring tools, all of which provide you with a lively pro comic. You don't have to use any more programs to get colors for your project. This is ideal for people who want to deal with one software at a time and minimize expenses so you don't have to buy extra software.
It can also be used in RGB and in CMYK formats, which is the best way to print your comics, so the consistency and color completeness of the finished article can be retained.
Improved 3D capacity
I believe this is a very intelligent element, and only an artist might come up with something. In Clip Studio, a new range of Software that can drag and drop additional things can be very easy to use and modify 3D models or objects.
What's incredible is they have many 3-dimensional "artist versions" which you can import and use as guides or as traces over the lines to achieve just the correct viewpoint and accurate shortness of time.
Really useful for making dynamic poses and holding a character's volume. It also helps to sharpen your eye when you work, even without a life model.
Folder Functions To Import And Export
Clip Studio enables all major. JPEG, TIFF, .. PNG, and .. BMP file formats, as well as a. PSD/.PSB(Photoshop) format that allows layers to be retained both in and out. It also makes for PaintTool SAI format and storyboard files that are preloaded in Wacom Cintiq Companion Hybrid by storyboard app "Manga Canvas."
Looking for a Kindle or eBook performance of your comics?
There's no worry because Clip supports Kindle and ePub industry standard output.
You can also import the files from previous versions of the program, including Manga Studio 4 and 4 EX.CPG files, using Clip Studio Color. As such, you can collect where you decided to leave off and reap the benefits of all the new features offered to you by the upgraded software.
Animation Frame-By-Frame In Clip Studio Paint
Apart from the above-listed drawing and painting equipment, Clip Studio Paint EX provides outstanding Animation, which is an aspect that must be considered.
However, please notice that the PRO software version allows a limit of 24 animated frames, which is only useful for basic stuff or animated GIFs and related applications.
For me, this is Clip Studio Paint EX's true advantage over competitors such as Photoshop. A dynamic timeline and other special features are included in the tools to provide a real-life to your manga or other illustration and even export them to other platforms. It'll certainly love a new feature that is really exciting.
Paint vs Adobe Photoshop vs Clip Studio- Comparison
Even if you can produce full-color manga, comics, and other drawings in both services, Clip Studio Paint does not supply you with these additional features:
Production of 3D poses
Layer of reference
Boosts adjustable
Editing of the backup
A range of governors and guidelines
Comic book panel formation
Ballons of Term
Large library of materials
Better animation frame by frame (EX more than PRO)
Though its pricing varies from version to version, Adobe Photoshop typically costs right into the middle of the Clip Studio Pro and EX prices. Although Clip Studio is a one-off purchase, Photoshop is on a monthly rolling subscription that will operate more costly over time.
Others like Autodesk's Sketchbook, ArtRage, PaintSool SAI, Corel Painter, and MyPaint are also in conflict with the Clip Studio drawing, but most of Clip Studios are among the top of the main categories.
The Negatives Of Clip Studio Paint
Now, as my loving mother has always told me, no one is fine. And, sadly, the same goes for Clip Studio Ink. There are two different shortcomings for me, all of which I hope will be resolved in upcoming updates.
First is the shortage of choices for modifying text and fonts, which while making comics is more of a gripe. It's also one of the things that Photoshop already has and likes to shine in, so I'm hoping in the future that Celsys will be able to build on this.
In case you're an animator, my next gripe is a bit of a niggly one, since there is NO, I mean NO audio support in the animation timeline. So essentially, when you operate, You can't promote lip-sync or pacing things out of music. To add an audio track and check the synchronization, you have to transfer it to a third-party application.
Pro's Of Using Clip Studio Paint
Loads of versatility for drawing
Customizable brush choices
Helpful software for vectors
Extensive possibilities for coloring
Large user base and culture
Lots of downloadable properties for free
New capability for 3D
Fresh motion frame-by-frame
Customer service has improved a great deal.
Pro's Of Using Clip Studio Paint
There is a learning curve, but it certainly takes some time to understand anything, particularly if previous versions of Photoshop have not been used.
It might be easier to provide text features.
Lacking animation audio support.
Quick Review Of Clip Studio Paint
For contemporary artists and designers of all sorts, especially those focused on comic books and manga, Clip Studio Paint is a fantastic option for those who want more versatility and freedom to design just as they would on paper, but with all the advantages that platform provides.
The amazing range of resources and features, and now the ability to transform, make perhaps one of the strongest and most inexpensive applications out there for digital drawing apps. It takes some time to get acquainted with what it has to say, but if you have used Photoshop or related apps, you can find your way around it in no time.
Clip Studio Paint Pro is just less costly and filled with fantastic features, so if you want to create several pages, have limitless animation frames, and make use of transitions from 3d to 2d styles, then I'd certainly recommend spending a little extra and opt for the more specialized edition of the software, Clip Studio Paint EX.
Often comic artists prefer Adobe Photoshop over Clip Studio Paint since it has a range of features not included in Photoshop.
Guys, this was a detailed review of Clip Studio Paint. I have researched deeply on this software and then come to this outcome. This detailed review of Clip Studio Paint is totally my opinion after using it. If you are having any issues in using this software then you can tell me in the comments section. I will surely guide you further.
Also Read: Best Free Beat Making Softwares For PC